With Valentines Day looming, we're feeling the love here at Team Bookends. And what is better than a bookish rom com to get you in the mood? Here are our top 5 picks for the ultimate Valentines movie marathon…
10 Things I Hate About You
This 90s classic is a re-imagining of Shakespeare's The Taming of the Shrew – what could be more bookish?! We're big fans of the Sylvia-Plath-reading Kat Stratford and her fiesty retorts to Heath Ledger's moody and elusive Patrick Verona, and that scene where she reads the poem in English class… gets us every time!
You've Got Mail
If you haven't seen this star studded rom com, you're really missing out. It's got the ultimate bookish meet-cute, with Tom Hanks's character Joe Fox meeting Meg Ryan's Kathleen Kelly in a bookshop (who here hasn't fantasised about this?) Co-written and directed by Nora Ephron, master of the rom com, the witty back-and-forth is second only to the gorgeous bookshop that serves as much of the backdrop. We're in book heaven.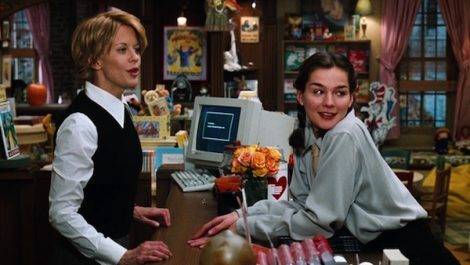 Clueless
Another book-based-on-a-film phenomenon is the fabulous Clueless – rewritten from Jane Austen's Emma, the infamous Cher Horowitz is based on Austen's eponymous heroine Emma Woodhouse, while her step brother Josh takes on the role of the charming Mr Knightley. And it's not just the romance we're swooning over – those matching checked outfits worn by Cher and Dionne are iconic to say the least…
Bridget Jones
If you haven't read Helen Fielding's original book that inspired the film, it's an absolute must! Super relatable and laugh-out-loud funny, Bridget is the ultimate anti-heroine.
Notting Hill
For movie buffs and book lovers, a trip to Notting Hill to visit the bookshop (which is run by Hugh Grant's character in the Richard Curtis classic) is essential. But fun fact: The Travel Bookshop never existed at 142 Portobello Road; this site was an antiques store and then a furniture store. It's now a gift shop called Notting Hill (with a sign saying 'The Travel Book Shop' above). The real book shop that William's was based on is around the corner at 13-15 Blenheim Crescent.
So there you go – the perfect Valentine's weekend spent indulging in delightful bookish rom coms and dreaming of bookshops…