Friends of Bookends Review Tell Me How It Ends by V.B. Grey
Here at Bookends we're dedicated to sharing the best upcoming books, and we know there's nothing our readers trust more than a review from a fellow bookworm. That's why each month we ask our trusted reader review panel, the Friends of Bookends, to share their thoughts on some upcoming books!
In this post, three of our panel share their reviews for Tell Me How It Ends by V.B. Grey. This gripping drama of toxic friendship, manipulation and revenge is All About Eve meets Tangerine in Swinging Sixties London!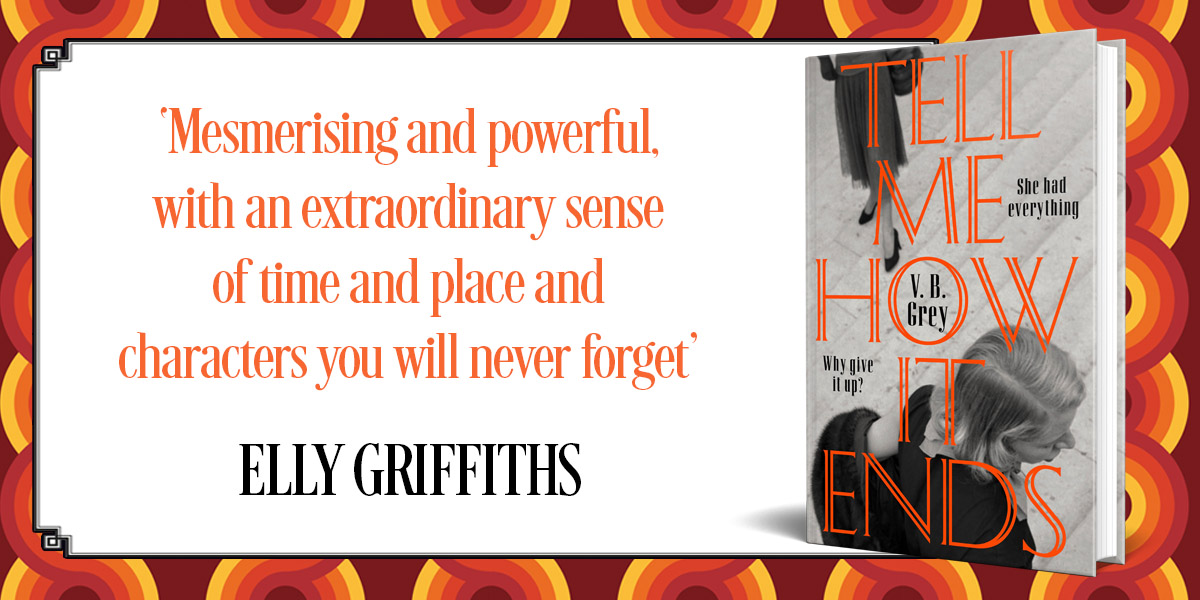 Rachel
Tell Me How it Ends is a captivating and poignant exploration of the relationship between two women with an extraordinary connection played out against the heady backdrop of London in its Swinging Sixties heyday.
When iconic 1950s singer, Delia Maxwell, goes missing prior to signing a major contract to break into the Hollywood movie scene, her record company boss calls in his former wartime comrade, Frank Landry, to investigate.  However Miss Maxwell's recently hired and spiky seventeen-year-old assistant, Lily Brooks, seems unconcerned about her disappearance and is conveniently able to step into the breach in an obvious attempt to usurp her employer.  Taking the opportunity to make a revelatory announcement and simultaneously launch her own career at a high profile television event, Lily seems determined to replace thirty-four year old Delia in the spotlight.  But why does Delia seem so happy to support Lily and is she really ready to say goodbye to her career?
As the narrative follows Lily's meteoric rise and Delia's friends urges her to recognise Lily's aloof and indignant manner in the face of her own unswerving loyalty, the burgeoning romantic affections of Frank compel him to delve into the younger woman's backstory.  Already suspicious of Lily's possible darker motives, Frank discovers the reasons why she has inveigled herself into Delia life and more importantly, why Delia refuses to condemn her..  Despite the glamour of the showbiz scene that surrounds the two women their relationship is entrenched in guilt, riven by betrayal and rooted in one ultimate ambition.
Comprised of a narrative that moves between Delia, Lily and Frank the story enables an appreciation and empathy for each of their conflicting perspectives, even that of unlikeable Lily! 
A haunting reminder of the legacy of the past and a bittersweet study of how without forgiveness the scars of history can overshadow future generations with devastating consequences.

Anne
A stylish and elegant story. Delia Maxwell is a household name, an international singing star with many adoring fans. The story is set in London,1963 and life is good for Delia, that is until Lily Brooks appears from nowhere and manipulates her way into Delia's closest circle. Who is Lily Brooks and why does Delia go out of her way to welcome Lily and her strange behaviour into her life?
As Delia's closest friends become concerned about this toxic relationship, Peter, her friend and owner of her record label, asks his wartime friend Frank to do some digging into Lily's background. Before long Frank has uncovered secrets in Lily's life, but also discovers that Delia has secrets in her past that she will not want to become public knowledge.
I thought this was a compelling read which also intertwined historical fact into the story giving it credence.
It is a story of glamour, love, hate, manipulation, revenge, guilt and forgiveness.
I loved the description of the glamour and the fashion of the 1960's, which were portrayed as vibrant and colourful but also with pitfalls along the way. I thought the characters in this story were well described and I liked that each had their own little story going on. I think the character Frank's story, had the potential to follow into another novel and would love to see that.
The title of the book " Tell Me How It Ends " was spot on as not only does it refer to the storyline but it also refers to the title of a song which plays a huge part in the story. I found this to be a pleasant, light read which moved along at a good pace. I have not read anything else by V.B.Grey before and will happily read another novel by this author.

Francine
V.B. Grey tackles a very emotive subject relating to two time frames: WW2 and years later, and the impact of one on the other. Cause and effect.
Mainly it's theme is betrayal, grief and loss.
All the main characters, from which we see each viewpoint in the form of corresponding chapters, have past histories and secrets which they carry, and shape their behaviour.
Lily was not a likable character, almost a caricature, a wicked witch in a pantomime, had not subject been more serious.
Delia was not without her faults and became rather exasperating in her increasing tolerance of Lily, who's actions were increasing malicious.
Frank had his demons but was a sympathetic narrator and through his tenacity, and the developing bond between him and Delia propelled him to seek the truth about Lily and her motives ultimately allowing the scale of Lily's intentions to be uncovered. This lead to further sercets.
The subject did tackle the desperation and fear of the war and it's consequences. It showed how normally moral, loyal, law abiding citizens betrayed those closest to them to be able to survive.
What the reader can take from the storyline is that at a time now when the world is being under attack by an unknown enemy we can forgive ourselves if our behaviour isn't all that it should be though we can strive to be more compassionate and charity towards others.