The best books to help you with your 2022 goals!
The start of a new year has come around once again and with that many of us might be setting or indeed already set themselves goals for what they want to achieve this year. The Bookends team have selected a few books that might help you on your way! Check out our recommendations below.
If you want to eat better on a budget…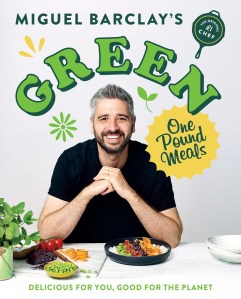 The One Pound Chef is back and wants to help make our lives a little bit 'greener'.
Whether you eat meat or follow a vegetarian or vegan diet, we all now recognise the importance of doing our bit to help the planet. In Green One Pound Meals, Miguel brings his no-nonsense approach and shows you how to eat more consciously, with delicious, planet-friendly, healthy food on a budget.
The book is packed with plenty of veggie and vegan recipes, along with some meat and fish dishes for those days when you might want something different. Miguel wants us all to be more aware of the food we eat: where it comes from, whether it is in season and is it good for you. He includes lots of tips and ideas for shopping smart and how to avoid food waste, as well as time-saving hacks. Why not switch things around and try 'Meat Mondays' and enjoy plant-based, nourishing meals during the rest of the week?
Miguel will show you that you that these quick, easy and nutritious meals don't have to cost you the earth and can help you do your bit towards helping the planet.
Minimum fuss, maximum flavour and all for £1 per person.
If you're looking for long-term sustainable happiness…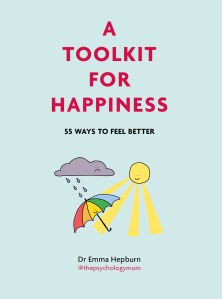 'Mandatory for anyone with a brain' – Anna Whitehouse, founder of Mother Pukka

'Relatable, practical and knowledgeable' – Gemma Bray, creator of The Organised Mum Method
From clinical psychologist and author of A Toolkit for Modern Life, Dr Emma Hepburn, comes A Toolkit for Happiness – the ultimate guide to long-term and sustainable happiness.
Using her much-loved trademark illustrations, Dr Hepburn arms us with 55 accessible and easy-to-use tools to boost our moods and feel better. She teaches us that happiness is as much about weathering the storms of life, accepting its natural ebbs and flows, as it is about enjoying the sunny weather – and that by implementing small and simple changes we can build a more compassionate brain that carries us through our daily lives, no matter the weather.

From practical tools to aid you on those extra stormy days to thought-provoking exercises for your day-to-day mental wellbeing, A Toolkit for Happiness will you to cultivate positive habits, better understand your emotions and put you on the path to a healthier and happier you.
If you're looking for motivation…
You get to decide how your lessons are learned and how your story goes. That's the power you have.
Life can be relentless, challenging and full of curveballs thrown at us at the worst times, but through these times life will open its hands and offer us the gift of finding out just how powerful we are. Dr Radha, a practising GP and media doctor, provides an inspiring toolbox of reflections and advice to help us reframe the bad stuff and difficulties we face, prevent overwhelm, and learn how to step into our power and trust ourselves, so we can overcome – and become more of who we truly are.
Divided into 3 sections – Getting Through, Stepping Up and Moving Forward – Dr Radha takes us through the tough roadmap of life and along all the highs and lows to prove to us that the tools we need to make decisions and implement changes lie within our own hands. We deserve to be happy and we have something beautiful, strong and determined inside of us. We hold the power to get through a crisis, to step up to the challenge and to move forward and change things for the better.
Let Dr Radha guide you on your journey to find balance, create healthy habits and build solid foundations to create the life that you were born to live.
If you're looking to improve your mental health…
A practical guide to mental health from leading mental health campaigner and bestselling author, Bryony Gordon.
'Mental illness has led to some of the worst times of my life… but it has also led to some of the most brilliant. Bad things happen, but good things can come from them. And strange as it might sound, my mental health has been vastly improved by being mentally ill.'
From depression and anxiety to personality disorders, one in four of us experience mental health issues every year and, in these strange and unsettling times, more of us than ever are struggling to cope. In No Such Thing As Normal, Bryony offers sensible, practical advice, covering subjects such as sleep, addiction, worry, medication, self-image, boundary setting, therapy, learned behaviour, mindfulness and, of course – as the founder of Mental Health Mates – the power of walking and talking. She also strives to equip those in need of help with tools and information to get the best out of a poorly funded system that can be both frightening and overwhelming. The result is a lively, honest and direct guide to mental health that cuts through the Instagram-wellness bubble to talk about how each of us can feel stronger, better and just a little bit less alone.
Bryony Gordon shares practical advice. . . to help us feel a little bit less alone – Happiful
If you've found yourself in a bit of a rut of late, these warm, wise words could be just what you need. She's properly funny, too – Women's Health 
Journalist Bryony Gordon has inspired millions with her honesty and frankness about her mental health. . . this lively, accessible guide is comforting, reassuring and insightful. – Independent
If you want to learn how to stop saying yes…
How to stop saying yes
when you can't, you shouldn't,
or you just don't want to

With 2 million copies sold worldwide, Sarah Knight's bestselling No F*cks Given Guides prove that she's the Queen of No: no to a single extraneous f*ck given, to unwanted obligations, overcommitting, and overcomplicating her life.
For Sarah, saying no is easy. For the rest of us, it's stress-inducing, blood pressure-raising, teeth-grinding hard. But it doesn't have to be. F**k No! is filled with tips, techniques, and practical strategies that will arm you with not only permission to decline, but plenty of ammunition for doing so.
An encyclopedia of examples, a cornucopia of comebacks, a plethora of polite replies: if you're looking to say no (and without being selfish, unlikeable, or mired in missing out), you've come to the right place.
If you want to eat healthier
Everyday recipes you will make time and again – flavourful, simple, slimming and so satisfying.
From wildly popular blog SLIMMING EATS comes a stunning collection of 100 brand new recipes plus 15 blog favourites. This is an everyday cookbook for everyone. Siobhan's homely recipes are delicious and really work, plus over 100 are under 500 calories.
You will find life-long family favourites, with recipes for breakfast, lunch and dinner, meals to feed a crowd, kid-friendly dishes, quick fixes, low calorie sides and recipes to satisfy any cravings. This is slimming food and delicious food – there's absolutely no scrimping on flavour here!
Every recipe is made to help you achieve your goals, featuring:
* a nutritional breakdown with a calorie count
* helpful pointers for vegetarian, gluten-free and dairy-free diets
* suggestions for swapping in low-calorie sides
Siobhan shares information on key ingredients and useful items to keep in your kitchen, plus a lot of motivation to keep you on track. Slimming Eats will be your ultimate kitchen companion for eating well every day.