Celebrate World Book Day with your book club!
Happy World Book Day! This is such a special day to celebrate books and reading and one of the best parts of World Book Day (aside from the fancy dress!) is being able to share your favourite reads with your friends. So Team Bookends have put together a list of 6 books we think would be great to share and discuss with your book club!
Strangers living worlds apart.
Strangers with nothing in common.
But it wasn't always that way…
Kerry Hayes is single mum, living on a tough south London estate. She provides for her son by cleaning houses she could never afford. Taken into care as a child, Kerry cannot forget her past.
Noah Martineau is a successful barrister with a beautiful wife, daughter and home in fashionable Primrose Hill. Adopted as a young child, Noah never looks back.
When Kerry contacts Noah, the sibling she lost on the day they were torn apart as children, she sets in motion a chain of events that will change both of their lives forever.
By turns funny and moving, Half a World Away is a story that will stay with you long after you read its final page.
MADAM BY PHOEBE WYNNE'The simmering menace and mystery kept me absolutely gripped' – Jennifer Saint, author of Ariadne
'A highly entertaining and atmospheric read' – Kate Sawyer, Costa Book Awards nominated author of The Stranding
'Rebecca meets The Secret History. Gloriously dark, gloriously gothic' Sara Collins, Costa First Novel Award-winning author of The Confessions of Frannie Langton

For 150 years, Caldonbrae Hall has loomed high above the Scottish cliffs as a beacon of excellence in the ancestral castle of Lord William Hope. A boarding school for girls, it promises that its pupils will emerge 'resilient and ready to serve society'.
Into its illustrious midst steps Rose Christie, a 26-year-old Classics teacher and new head of department. Rose is overwhelmed by the institution: its arcane traditions, unrivalled prestige, and terrifyingly cool, vindictive students. Her classroom becomes her haven, where the stories of fearless women from ancient Greek and Roman history ignite the curiosity of the girls she teaches and, unknowingly, the suspicions of the powers that be.
But as Rose uncovers the darkness that beats at the very heart of Caldonbrae, the lines between myth and reality grow ever more blurred. It will be up to Rose – and the fierce young women she has come to love – to find a way to escape the fate the school has in store for them, before it is too late.
Perfect for fans of Margaret Atwood and Madeline Miller, Madam is a darkly feminist tale with an electrifying cast of heroines you won't soon forget.
The beautiful, enigmatic wife of a feared dictator stands trial for her late husband's crimes against the people. The world will finally know the truth. But whose?
'Compelling, atmospheric… It's BRILLIANT' MARIAN KEYES, bestselling author of Again, Rachel
WOMAN
I learned early in life how to survive. A skill that became vital in my position.
WIFE
I was given no power, yet I was expected to hold my own with the most powerful man in the country.
MOTHER OF THE NATION
My people were my children. I stood between him and them.
I am not the person they say I am.
I am not my husband.
I am innocent.
Do you believe me?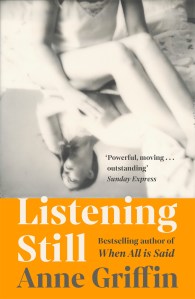 From the bestselling author of When All is Said comes a delicious new novel about a young woman who can hear the dead – a talent which is both a gift and a curse.
Jeanie Masterson has a gift: she can hear the recently dead and give voice to their final wishes and revelations. Inherited from her father, this gift has enabled the family undertakers to flourish in their small Irish town. Yet she has always been uneasy about censoring some of the dead's last messages to the living. Unsure, too, about the choice she made when she left school seventeen years ago: to stay or leave for a new life in London with her charismatic teenage sweetheart.
So when Jeanie's parents unexpectedly announce their plan to retire, she is jolted out of her limbo. In this captivating successor to her bestselling debut, Anne Griffin portrays a young woman who is torn between duty, a comfortable marriage and a role she both loves and hates and her last chance to break free, unaware she has not been alone in softening the truth for a long while.
THIS IS A LOVE STORY BUT NOT THE LOVE STORY YOU ARE EXPECTING…
'SMART, EMOTIONAL, INTRIGUING AND COMPELLING – I LOVED IT!' JILL MANSELL

'Full of twists and turns, this is a heart-breaking yet uplifting story about love and friendship, and is one of this year's must-reads' Heat magazine *****

Dannie Kohan has held true to her meticulously crafted 5-year plan since she understood the concept. On the day that she nails the most important interview of her career and gets engaged to the perfect man, she's well on her way to fulfilling her life goals.
But that night Dannie falls asleep and dreams of a night five years in the future where she's engaged to another man. It was just a dream, she tells herself when she wakes, but it felt so real.
Determined to ignore the odd experience, she files it away in the back of her mind. That is, until five years later, when Dannie turns down a street and there, standing on the corner, is the man from her dream…
Perfect for fans of Me Before You and One Day, this heart-breaking story of love, loss and life will have you questioning everything you thought you knew about destiny.
A novel of love, homelessness, and learning to be fearless
In the garden, there were three flamingos. Not real flamingos, but real emblems, real gateways to a time when life was impossibly good. They were mascots, symbols of hope. Something for a boy to confide in.
First, there were the flamingos. And then there were two families. Sherry and Leslie and their daughters, Rae and Pauline  – and Eve and her son Daniel.
Sherry loves her husband, Leslie. She also loves Eve. It couldn't have been a happier summer. But then Eve left and everything went grey. Now Daniel is all grown-up and broken. And when he turns up at Sherry's door, it's almost as if they've all come home again. But there's still one missing. Where is Eve? And what, exactly, is her story?