Katrina Logan's favourite Eurovision acts of all time!
The author of the most joyous Eurovision romcom tells us her favourite Eurovision acts!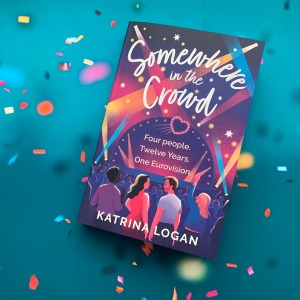 Somewhere in the Crowd is out now, and is the perfect partner to Eurovision 2023! 
Fairytale, Alexander Rybak (Norway) 2009
A song that truly captures the spirit of the contest, Fairytale has it all: a catchy, upbeat melody; a whimsical love story narrative; a hugely entertaining backing performance with Cossack-style dancing; and a talented artist with a megawatt smile, dancing around the stage, playing his violin and having the time of his life. Alexander Rybak is a ray of sunshine and this song is pure joy.
Making Your Mind Up, Bucks Fizz (UK) 1981
Any performance that starts with four people shaking their butts at the camera in unison is already a winner in my eyes. This song is fun, but what makes it is the choreography – every single cheesy move you've ever pulled out on a wedding dance floor is present in Bucks Fizz's performance and I am here for it. The long skirts being whipped off to reveal short skirts is the pinnacle of the show – it won't fail to make you smile.
Rise Like a Phoenix, Conchita Wurst (Austria) 2014
What a moment for Eurovision when Austria's Conchita Wurst was announced the winner in 2014. With a James-Bond-theme feel to it, Rise Like a Phoenix is a mighty and moving ballad about suffering challenges and overcoming them, and Conchita's performance was nothing short of spectacular – and it was somehow made even better by the audience singing along, belting out the chorus at the top of their lungs. A performance that leaves you with goosebumps.
Ooh, Aah…Just a Little Bit, Gina G (UK) 1996
An unapologetically cheesy pop song impossible not to dance along to, this is an absolute classic Eurovision track that somehow only placed 8th in the 1996 competition. Thankfully, and rightfully so, it became a subsequent global hit. Gina G did us proud in donning that dazzling sequin dress for the occasion, an iconic garment originally designed for Cher who decided not to use it. Cher's loss was Eurovision's gain: Gina G looked like a human mirror ball – what's not to love?
Love Shine a Light, Katrina and the Waves (UK) 1997
If you're after a heartwarming entry, look no further than the winning song of 1997: Love Shine a Light. In fact, if Eurovision had an anthem, this could very well be it thanks to its inspiring lyrics about love conquering all and everyone shining together as one – its message is unity. No wonder that during the 2020 lockdown when the contest was postponed, this song was chosen to be sung by all the various entrants together during a replacement broadcast titled Europe Shine a Light.
Waterloo, ABBA (Sweden) 1974
No Eurovision song list is complete without Waterloo by ABBA, a performance that changed the world. Where to start? The fantastic song, the bright, colourful, glittering costumes, the orchestra conductor dressed as Napoleon… The whole wonderful spectacle was Eurovision perfection and it reminded the world what the contest is really about: coming together to have some fun, no matter who you are, no matter where you're from. Everyone is welcome.
The most joyous romcom you'll read in 2023!


Four friends. Twelve years. One Eurovision . . .

Eurovision is always the highlight of Millie's year. So when she and her best friend James get the chance to see the final live in Oslo, it's a dream come true - until they get swept up the excitement and try to break backstage, along with carefree German singer Ingrid and charismatic Australian backpacker, Noah.

Getting thrown out of the stadium wasn't exactly the plan, but it might just spark the friendship - and the pact - of a lifetime. The four of them are going to reunite for every final, every year, every Eurovision.

Over the years, the unlikely four celebrate iconic Eurovision moments all across Europe - and, most importantly, are there for each other during all their highs and lows, heartaches and triumphs. But real life takes them down increasingly different paths, their promise becomes harder and harder to keep. Can the magic of Eurovision bring them together one last time...?

A joyous and uplifting novel inspired by the iconic song contest, about friendship, love and finding where you belong.

***

READERS LOVE SOMEWHERE IN THE CROWD:

⭐⭐⭐⭐⭐ 'Absolutely fabulous'

⭐⭐⭐⭐⭐ 'Magical'

⭐⭐⭐⭐⭐ 'Full of the glitz and fun of Eurovision'