Books to look out for in 2022
With a new year comes new books, and this year has a plethora of amazing and gripping new titles from your firm author favourites. We've rounded-up the best of the bunch, all publishing in the first half of 2022. Which one will you be reading?
Three women. Three dates. One missing man…
8.52 a.m. Siobhan's been looking forward to her breakfast date with Joseph. She was surprised when he suggested it – she normally sees him late at night in her hotel room. Breakfast with Joseph on Valentine's Day surely means something… so where is he?
2.43 p.m. Miranda's hoping that a Valentine's Day lunch with Carter will be the perfect way to celebrate her new job. It's a fresh start and a sign that her grown-up life is finally falling into place: she's been dating Carter for five months now and things are getting serious. But why hasn't he shown up?
6.30 p.m. Joseph Carter agreed to be Jane's fake boyfriend at a colleague's engagement party. They've not known each other long but their friendship is fast becoming the brightest part of her new life in Winchester. Joseph promised to save Jane tonight. But he's not here…
Meet Joseph Carter. That is, if you can find him.
The No-Show is the brilliantly funny, heart-breaking and joyful new novel from Beth O'Leary about dating, and waiting, and the ways love can find us. An utterly extraordinary tearjerker of a book, this is O'Leary's most ambitious novel yet. 
Coming April 2022.
The addictive new thriller from Sunday Times and Kindle bestseller Harriet Tyce, author of Blood Orange and The Lies You Told
It's New Year's Eve and the stage is set for a lavish party in one of Edinburgh's best postcodes. It's a moment for old friends to set the past to rights – and move on.
The night sky is alive with fireworks and the champagne is flowing. But the celebration fails to materialise.
Because someone at this party is going to die tonight.
Midnight approaches and the countdown begins – but it seems one of the guests doesn't want a resolution.
Coming April 2022.
The heartbreaking new novel from the author of the international bestseller In Five Years
When Katy's mother dies, she is left reeling. Carol wasn't just Katy's mum, but her best friend and first phone call. She had all the answers and now, when Katy needs her the most, she is gone. To make matters worse, the mother-daughter trip of a lifetime looms: two weeks in Positano, the magical town where Carol spent the summer before she met Katy's father. Katy has been waiting years for Carol to take her, and now she is faced with embarking on the adventure alone.
But as soon as she steps foot on the Amalfi Coast, Katy begins to feel her mother's spirit. Buoyed by the stunning waters, beautiful cliffsides, delightful residents, and – of course – delectable food, Katy feels herself coming back to life.
And then Carol appears, healthy and sun-tanned… and thirty years old. Katy doesn't understand what is happening, or how – all she can focus on is that somehow, impossibly, she has her mother back. Over the course of one Italian summer, Katy gets to know Carol, not as her mother, but as the young woman who came before.
But can we ever truly know our parents? Soon Katy must reconcile the mother who knew everything with the young woman who does not yet have a clue.
Coming March 2022.
Eden's ready for a new start, putting the past behind her. But others have their own ideas of what's best for her . . . The heart-breaking, life-affirming and unforgettable new novel from the author of THE WOMEN WHO RAN AWAY 
Five years after the death of her firefighter husband, Eden knows better than anyone that life can change in an instant. Now, instead of the future she had planned with Andy, she has Lila – the daughter he never got the chance to meet. And instead of Andy, she has his family.
Then Eden meets someone. Someone she knew before Andy, before Lila, before the tragedy. Someone who reminds her of how she used to be. But Andy's mother has other plans. And Eden is facing an impossible choice. One that could tear a family apart . . .
Coming April 2022.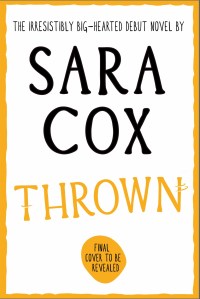 Becky: a single mum who prides herself on her independence. She knows from painful experience that men are trouble.
Louise: a loving husband, gorgeous kids. She ought to feel more grateful.
Jameela: all she's ever done is work hard, and try her best. Why won't life give her the one thing she really wants?
Sheila: the nest is empty, she dreams of escaping to the sun, but her husband seems so distracted.
The inhabitants of the Inventor's Housing Estate keep themselves to themselves. There are the friendly 'Hellos' when commutes coincide and the odd cheeky eye roll when the wine bottles clank in number 7's wheelie bin, but it's not exactly Ramsay Street.
The dilapidated community centre is no longer the beating heart of the estate that Becky remembers from her childhood. So the new pottery class she's helped set up feels like a fresh start. And not just for her.
The assorted neighbours come together to try out a new skill, under the watchful eye of their charismatic teacher, Sasha. And as the soft unremarkable lumps of clay are hesitantly, lovingly moulded into delicate vases and majestic pots, so too are the lives of four women. Concealed passions and heartaches are uncovered, relationships shattered and formed, and the possibility for transformation is revealed.
Coming May 2022
This actually is a love story, just not the one Sunny was looking for . . .
Sunny is the queen of living a double life. To her friends, she's the entertaining, eternally upbeat, single one, always on hand to share hilarious and horrifying date stories. But while they're all settling down with long-term partners and mortgages, Sunny is back in her childhood bedroom at thirty, playing the role of the perfect daughter. She spends her time watching the Sikh channel, making saag and samosey with her mum, hiding gins-in-a-tin in her underwear drawer and sneaking home in the middle of the night after dates, trying but failing to find 'the one'.
She juggles both lives perfectly . . . on the outside, at least. But when her mum sees a guy dropping Sunny home one evening, Sunny's life gets a little complicated. Now her mum wants to know about the life she's hidden from her for so long.
Sunny is well versed in lying to her friends, her family, and, above all, herself. But how long can she keep it up for? Or is it finally time to start being honest?
Coming March 2022